Theotokos With Seven Arrows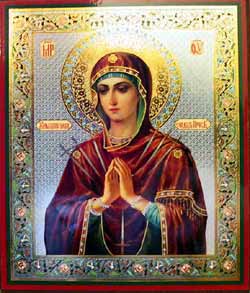 The subject of this icon has been known for at least 500 years, but it was only in the early 18th century thai it appeared in Russia, apparently, having been transferred here from Roman Catholic iconography. It is assumed, that it was brought into Russia from Poland by painters V. Poznansky and I. Refusilsky. A number of versions of this Icon show the Mother of God with Her heart pierced by arrowlike swords, three on the right hand side, three on the left hand side and one from below, holding dead Infant Jesus in Her lap. In this case, the icon has a second name, "Simeon's Prophecy." Copies of this miracle-working icon are known to have wrought numerous cures, especially during the epidemic of cholera in 1830. Its feast days are during the Week of All Saints, on February 2/15 and on August 13/26.
The Mother of God is depicted in an unusual pose, alone, without the Pre-eternal Divine Infant. She is pierced by seven arrows: four on her left side, and three on her right. The following is an account of the earliest glorification of this icon: A certain peasant of the Kandikovsky District who as the result of disease had for many years suffered with generalized weakness and a limp, had a dream in which he learned that he would be healed if he visited the St. John-Bogolyubsk church and found the icon of the Mother of God in the bell-tower. Twice he went there, related his dream, and asked permission to enter the bell-tower. However, they did not believe him, and his request was denied. Finally, the third time, they took pity on him and allowed him into the bell-tower. He immediately found the Holy icon which he had seen in his dream. It was being used as a floorboard on a stairway landing. They washed the icon of the dirt and bird droppings covering it. The sick peasant requested that a moleben be served before it, and, thereafter, was healed.
Much time passed, with nothing again heard of this icon until 1830, at a time when cholera was rampant in Vologda. The terrified residents ran for help to the Queen of Heaven, and taking up her Seven-arrow and Seven-city icons, carried them about the city in a solemn Procession of the Cross. The epidemic visibly abated, and soon the cholera entirely disappeared. From that time on, the icon was glorified through many miraculous healings of the sick.
Other name of the icon is "The Softening of Evil Hearts"
List of stories about Russian saints