Pavlovo-Posad Woolen Shawls
Pavlovo Posad is an ancient Russian town about 60 kilometers from Moscow. It is well known as the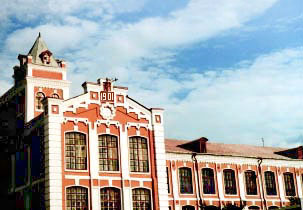 home of hereditary textile workers. The Pavlovo Posad factory for production of woolen shawls was founded in 1795 by Ivan Labsin. His business was continued by his sons and grandsons. Thus in the middle on 19-th century the first fast-printed shawls were produced on result of business activity of Jakov Labsin - a great-grandson of Ivan Labsin.
In the very beginning shawls were woven of yarns. It took much time to produce a shawls and as a result those shawls were quite expensive. A single shawl could take up to 18 months to complete. During the 19th century different and more cost effective methods were used in the manufacturer. Highly skilled weavers and designers were sought after as the demand grew.
Gradually printed woolen shawls replaced costly color woven shawls. Some of the elaborate color weaving was replaced by printed designs. Until late in the 19th Century shawls were decorated by means of hard wood block printing. A different wood block was used for each color.
Metal plate printing replaced block printing in the late 19th century and roller printing soon followed although fewer colors were used. Designers and artists of Pavlovo Posad produced harmonious combinations with rich color schemes usually leaving the center space blank. Gradually the shawls took on a wider range of designs taking into consideration the tastes of different people. The Pavlovo Posad shawls were always in large demand.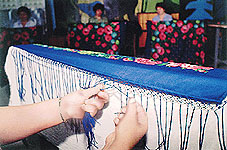 After revolution in 1917 the factory was nationalized. In that time due to the lack of raw materials and fuel the factories were closed but soon after that period passed Pavlovo Posad was again producing the sought after shawl. In the 1937 Paris World Fair Pavlovo Posad was awarded the Grand Prix of the whole exhibition. Pavlovo Posad was internationally recognized as the masters of shawl design and quality. After the Second World War a new generation of designers won the Major award at the Brussels World Trade Fair in 1959.
Here are some most often asked questions. Spend a couple of minutes to read them. They will be very useful to those who wear and use Pavlovo Posad shawls.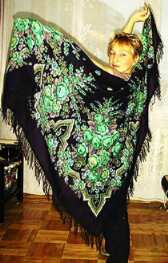 1. Can shawls be washed?
Making such colorful shawls designers meet a dilemma: to make a bright shawls and use for this purpose less fading proof dies or to use more firm dies that better stand to washing but to receive less bright and less colorful shawls. Pavlovo Posad shawls traditionally are bright and colorful, they can not be made using only firm dies. So this is not recommended to wash shawls, use only dry cleaning. By the way for any woolen materials washing is not recommended.. Anyway at your own risk you can wash woolen shawls but use for this not hot water with temperature less than 30 °C (86 ° F). Use for this special washing dusts for wool. After washing rinse it in a warm water, then in cold. Washing in cold water add into water some vinegar. Then squash and dry the shawl spreading it on a horizontal surface.
2. What materials are used for production of shawls.
As it was told before only 100 % wool is used for production of Pavlovo Posad shawls, it makes them so warm and comfortable.
3. What to do if a shawl get wet (for instance after raining or snowing)?
You should dry a shawl as fast as possible. Do not dry it close to open fire and do not place it on a heating devices. It will make woolen fibers to be brittle and will cause shrinkage of a shawl.
If you have any other question, please, contact by e-mail
Stories about Russian Crafts