Date added: 05/01/2012

Victory Day in Russia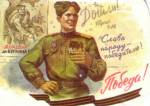 May 9 - Victory Day in Russia
May 9 is the national holiday in Russia and is call Victory Day. The holiday is to celebrate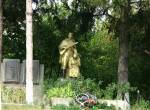 victory of the Soviet people over Nazi Germany in Great Patriotic War during 1941-1945. You may ask about this war as you usually hear about other war of that period the World War 2. Yes, there is some confusing with these two different names. Actually the WW2 lasted from 1939 till 1945 while in the Soviet Union is began in 1941 and ended in 1945. And in the Soviet Union and now in Russia it is called Great Patriotic War. As you may know "Patriotic" means that not only regular military troops took part in the war but also many civil citizens fought against the enemy. Let me to say a few words about this holiday, just a few as I am going to tell about official matters of celebration in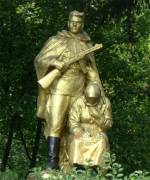 other separate article and here I wold like to say about more personal thought on the subject.
Nevertheless the holiday retained its value and even special holiday greeting post cards were produced. Only in 1965 The Soviet Union leader Leonid Brezhnev introduced more wide and significant celebration and the Victory Day became again a non-working day. In present Russian this day of May 9 is still an official day-off, it is celebrated in large state scale and what is more important people consider it to be one of the greatest holidays.
I was born and grew up in Ukraine. In time of my childhood and time of studying in
the Polytechnic Institute Ukraine was a part of the USSR empire. When the Soviet Union felt down Ukraine like 14 other republics became an independent country with own president, government, money, lows, custom houses, boundaries and holidays. Many newly arranged countries refused from official soviet holidays, they wanted to say: "We do not know about out background and we want to forget about it". Ukraine was not among those short-memory dwarf-like countries and it does credits that is remained such important historical holidays like Victory Day.
A year ago I visited my native village in Ukraine and with much interest made walks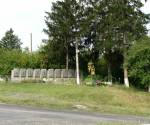 around and took many pictures because there were so many changes (maybe one time I will write about it in more details). The most impressive thing was the monument in the center of the village, the monument was established to memorize the Great Patriotic War, all people who perished during the war and the victory in it. You can see is on the picture on the right. The monument describes a soldier with a gun, he has just liberated the village and entered into it. He met some people from the village and among them we a sad grieving woman whose all relatives perished. such monuments made of concrete and painted in "bronze" paint were installed in hundred and thousand villages, I do not know who was the author of the monument but it became a symbol of people victim in the Great Patriotic War.
I was surprised by the condition of the monument - it was repaid and well painted, it means that people in the village pay much attention to memory about the perished people. Beside the monument there is a low stone wall with stone tablet with names of all people of the village who went to war and did not returned back. There I found 3 names of my relatives. All this I recollected today on May 9...